Small Batch Canadian Made
Open 11 to 5 Monday to Sunday
105 King Street West, Dundas (Hamilton) Ontario
Closed Statutory Holidays (Good Friday, Easter, Easter Monday)
Shop in person, or online. We provide local pick up or can to ship to you.
To Order Online and Pick Up in Dundas: select "Pick Up" Tab when checking out under shipping options. 
We pay the shipping: spend $100 plus (pre-hst, Canada only). At checkout add discount code "FreeShipping" (no spaces or quotes). 
Email: info@weirslanelavender.ca Phone: 905-627-9208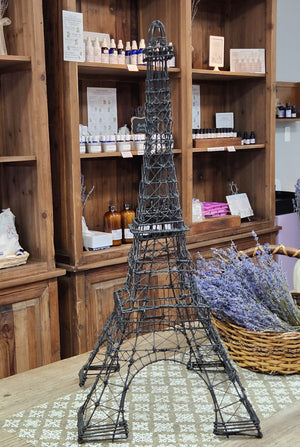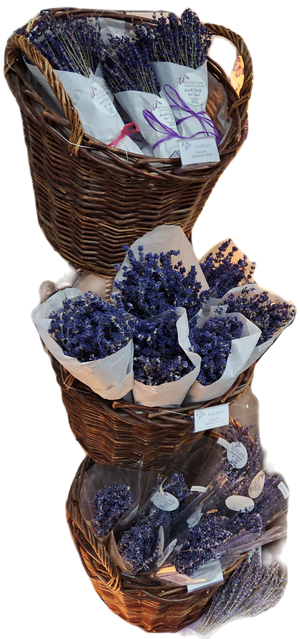 Your Source for Lavender
About Weir's Lane
We started as a lavender farm and now we're focused on creating luxurious products using pure lavender & other essential oils.
Who We Are
About Lavender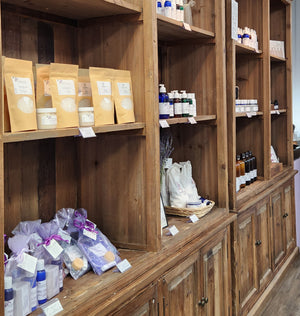 For Someone Special: Create your Own or Select from one of our many Gift Collections
Bet flavorful
Very flavorful and yummy honey. My toddler loves it. Comes in a beautiful rustic packaging
My Clients LOVE these gifts
I have had such great feedback after sending these lovely gifts to clients across the country. They find it so sweet and personal and much nicer than a coffee gift card! I feel great about sharing my local treasure with others!
Love of honey
I used the honey with my lemon ginger tea. It wasn't overly sweet which was really great. Love your product! See you soon when run out. Thank you!
Beautiful products!
I bought these products for my son's girlfriend. She loves organic, natural products. This is a Christmas gift. I know she will love the candle, honey and the lavender spray.
Great Gift Ideas
Weir's Lane is a gem for gift-gifting. Easy way to send beautiful and useful items to loved ones during the holidays or for any special occasion.
Excellent Product
Exactly as described! Beautiful presentation and great price. Easy shipping. Would buy again!
Excellent purchase
I love the products I bought, amazingly good quality and purity of oils, quick response to orders, fast shipping. Excellent!
Personalized and Unique Gifts for sending across the Country
My clients love getting their gifts that I send to them from Weirs' Lavender. They are so much nicer than a gift card and they personalize them for me.
I have sent them across the country and they arrive on time and intact and have gotten such beautiful responses!
Thank you Weirs for making me look good
I cannot give a review on the product I purchased as it was a gift.
small package but big effects
hi, have been an admirer of Weir's Lane , for their products, their prices, and the great effects of the products.
Lovely Gift
Bought this for my sister's birthday and she loved it. She said the sachet was a good size, the cream was nice and smooth, the roll on smelled great. Nice packaging and a great price for what you get.
Always awesome
As usual, Weir's Lane provides wonderful products at a reasonable price. This was a gift for a friend that was thoroughly enjoyed and appreciated. I've used many of the lavender products. Love!
Perfect Gift
I gave my brother-in-law a less than subtle hint that I would really like to try this set for Christmas when he said he was struggling to find a gift that he could ship to me in BC. I've tried all three products in the set and they are divine! The hemp cream is so smooth and does not leave your skin feeling tacky. It has not caused any skin issues for me, which usually happens with scented products. The soap makes a wonderful lather and has a strong (but not overpowering) scent. I used the massage/bath oil for both uses and loved it. My set included a French lavender soap bar and English lavender cream and oil. Highly recommend this trio!
Great Quality
I bought this for my husband's teenage niece and she said she loves it. She loves the smell and quality.
Excellent!
It is a perfect gift for someone to spoil a little without going overboard. Plus the price was great! I am thrilled that you now have a store in downtown Dundas as I will be ordering their again. The best part was the ordering online and reviewing all the wonderful products over and over again and trying to make up your mind as everything is wonderful! Thank you again for everything. A very satisfied customer!
Beautiful gift
Great service, fast shipping and really beautiful good qualify products. Ordered with them in the past and will continue to order more.
Make your own soap with mold kit
This is a great company with such kind and thoughtful people at the helm! I've always felt I received personal service, and the products are top notch! I've purchased many of the products, but the most recent was their 'make you own goat milk soap kit' We purchased the kit with the molds, and am about to purchase another kit with molds...we want to make more! This soap was given away as gifts and received high praise. I saved myself one bar...and regret that I only kept one bar. It's a lovely creamy rich - lathering soap, very gentle and soothing on my skin. Others have similar praise for this soap, and all want more. we chose the lavender / pathoulli / chamomile oil to add for a scent, and it was perfect...just a gentle scent...not too strong. Can't wait to start making more!! Thank you, Weir's Lane...you guys are the best!
Terrific customer service and exquisite product.
Great Value!
Was looking to refresh my lavender sachets with fresher lavender and this was exactly what I was looking for. I wanted a local product and found Weir's Lane on line. Great fragrance, good price and order fulfillment was fast and professional. Thank you!
Beautiful scent
The scent is wonderful, strong, and soothing. I also found it contained flowers only. Very well filtered to remove unwanted debris and sticks. I made sachets and will use in my soap making too. I highly recommend this product. High quality.
Fabulous Lavender Crafting Buds
My introduction was when a friend sent me a bag of lavender from Weir's Lane and now this is my 3rd time purchasing the Lavender dried Buds for my hand made lavender heating / cooling pads.
Always consistent superior quality and I like the new environmentally friendly packaging. Great Job Weir's Lane
Always satisfied
Thank you once again for filling my order so promptly. The dried lavender I have ordered a few times is of good quality and pleasant to work with to make sachets.
Culinary lavender
I have been using Weir's Lane culinary lavender for a number of years now to make homemade lavender syrups and lavender teas. It's high quality and very fragrant and ordering is very easy. Highly recommend.
Amazing product
Used this in a honey syrup for a cocktail - turned out absolutely amazing. Such a great product
Wonderful culinary lavender
There's no bitter flavor or overwhelming non-lavender floral taste with this culinary lavender. A little does go a long way with this so the price is more than fair for the amount you get. It's aromatic and delicious and the flowers are soft so even if you don't bake or cook them, they don't stab you in the roof of your mouth. Sadly I've run out after buying my tin a couple years ago, so I guess it's time to stock up!
FRESH, FRESH, FRESH, WITH AMAZING AROMA!
I love their lavender which I use for creme brûlée, pancakes, and desserts. The lavender is so fresh and the aroma is incredible.
The lavender was promptly shipped, neatly packed in a ZipLock, which was placed in a small box. Within a week I had my package. Well done, Weir's Lane.
Great Lavender
I have been buying culinary Lavender from Weir's Lane farm for a number of years. The chefs I work with a very happy... this is a wonderful ingredient.
Fantastic service!
The representatives from this company were professional, understanding and very knowledgeable about their products. We had stunning and fragrant bridal bouquets thanks to Weir's Lane.
Beautiful
This is really high quality. You can absolutely tell the difference when you buy local. Colour is so vibrant. Price is also very reasonable. Will be using the lavender as decor for my early spring wedding.
Beautiful!
The lavender smells so nice and os beautiful in my home! I love that they are real, albeit dried. Low maintenance, smells great and looks beautiful
Lovely
Dried lavender arrived intact, carefully wrapped and fragrant. Very nice and colour as expected
Amazing color, smell, and integrity!
The quality of this lavender is amazing! The color is a rich purply blue, the smell is super fresh, and it holds together without falling apart. 5 stars, and will purchase again in the future.
Love it
Beats any scented candle. Amazing scent that lasts.
Best essential oil
I love the English Lavender, it has a beautiful clean scent. I have put the oil in a glass bottle with a ceramic flower on the top and a wick feeding the essential oil up to ceramic flower. It sits on my dresser the beautiful lavender scent flows through to the hall, so nice.
I highly recommend Weirs essential oils,I have tried others and Weirs is the best!
Grey
I made lots of my own scent bags and I use the oil to refresh them. Great product.
Lovely
I use both French and English lavender for skin irritations with good results. I also add several drops to my unscented liquid hand soap dispensers.
Wonderful products. Thank you
Stroll Along King Street West in Dundas
Whimsy & Quality
Whether you are a local or want to spend an afternoon exploring the shops & restaurants, be sure to pop in and enjoy some of our delights.
Explore our Products